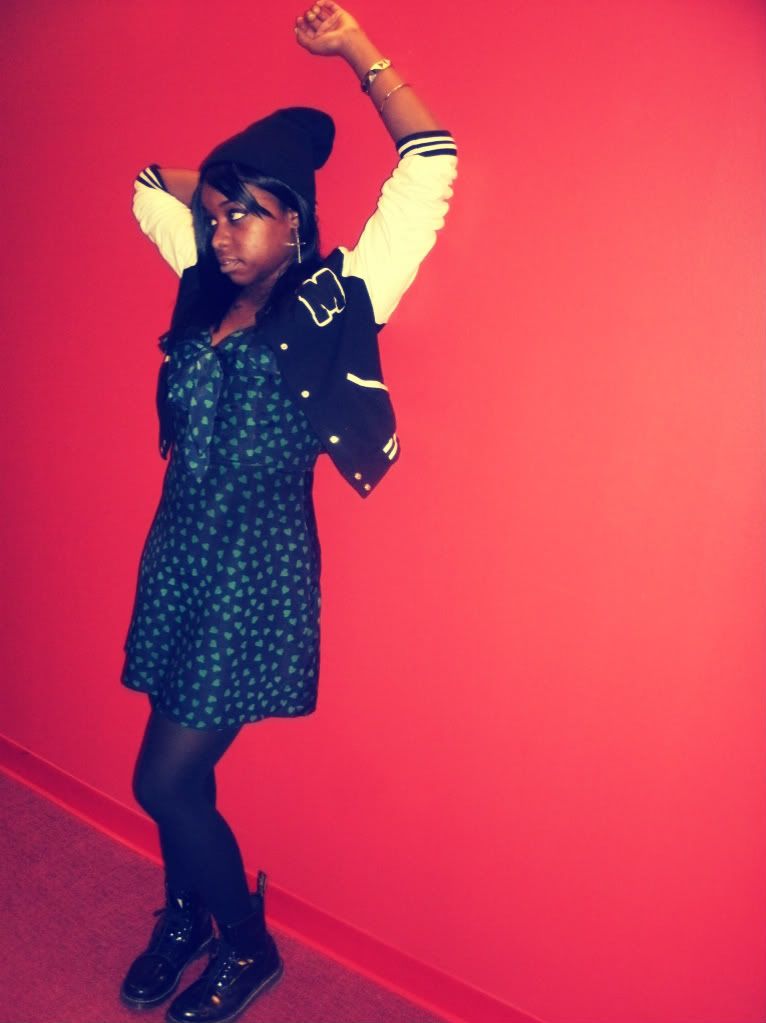 ok, now refrain from looking into the lens because you look cooler that way
jacket: forever 21
dress: forever 21
hat: target
spike bracelet: forever 21
other bracelet: idk
boots: doc martens
i was going for sporty-british-feminine with this look. if that makes any sense. throw a baseball jacket over anything, and it adds instant sporty chic. i was wearing a black beret before, but the evil chicago winds blew it off my head and out of my life. :(
today was a rather shitty day. i fucked up at work in a major way, and i have to alert el boss lady tomorrow since she was out sick today. then i was the only person working there, meeting everyone's demands--i work in an office, so people like to ask about their folders and whatnot--and taking everyone's dicks in my ass. terrible. then i felt like my hair looked bad, then i couldn't find anyone to eat with since i hate eating alone and looking like a friendless loser and ARGHHHHHH!!!! luckily, everything is fine now, but you know those days when everything just comes to a head and you wanna punch the fuck out of a wall? today was that day.
this ad reminds me so much of my outfit. luella did go international for target back in 2004, and i coveted that tartan dress. never got it, but i figured the cheaper forever 21 green dress would suit me just fine.
i love luella bartley. she's so quirky, and her style is so adorably british. any remember the cherry skirt?
anyhoo, the inspiration behind the title of this post is jamie xx. he collaborated with gil-scott heron before he died, remixing his album, i'm new here, retitled, we're new here. his involvement in the xx renders him a producer of fuck music--n. music to shag to--and for some reason, this song feels like two people who finally admitted they like each other and are about to do the nasty. or is that my dirty mind? idk. anyways, this post is getting too long.