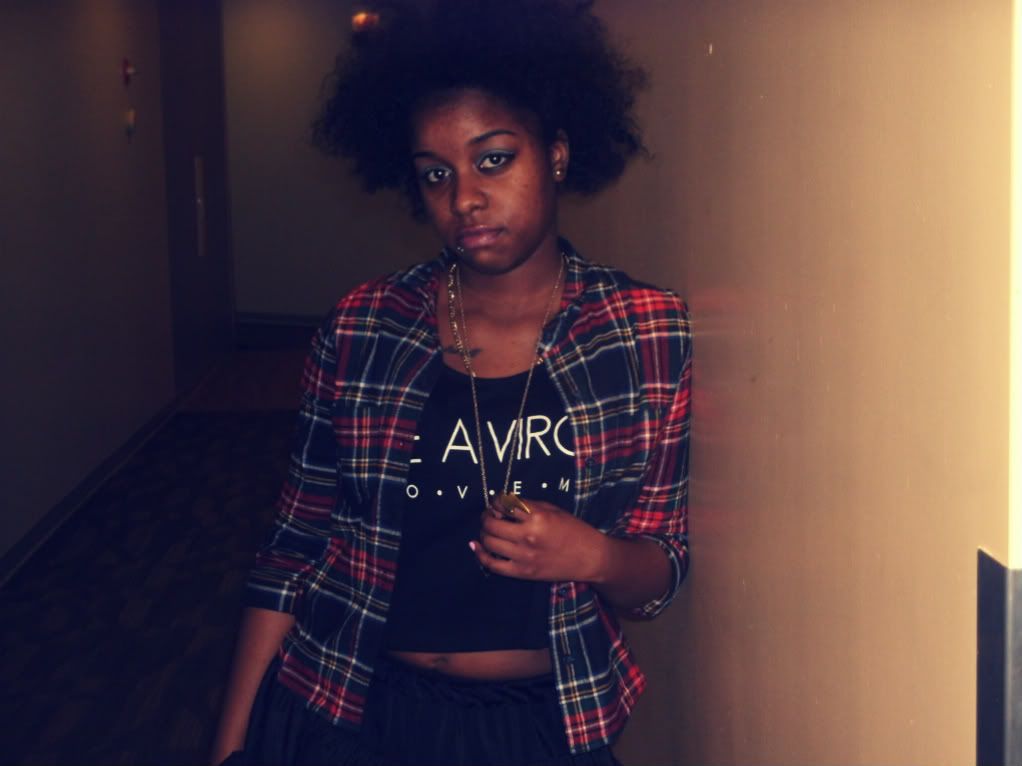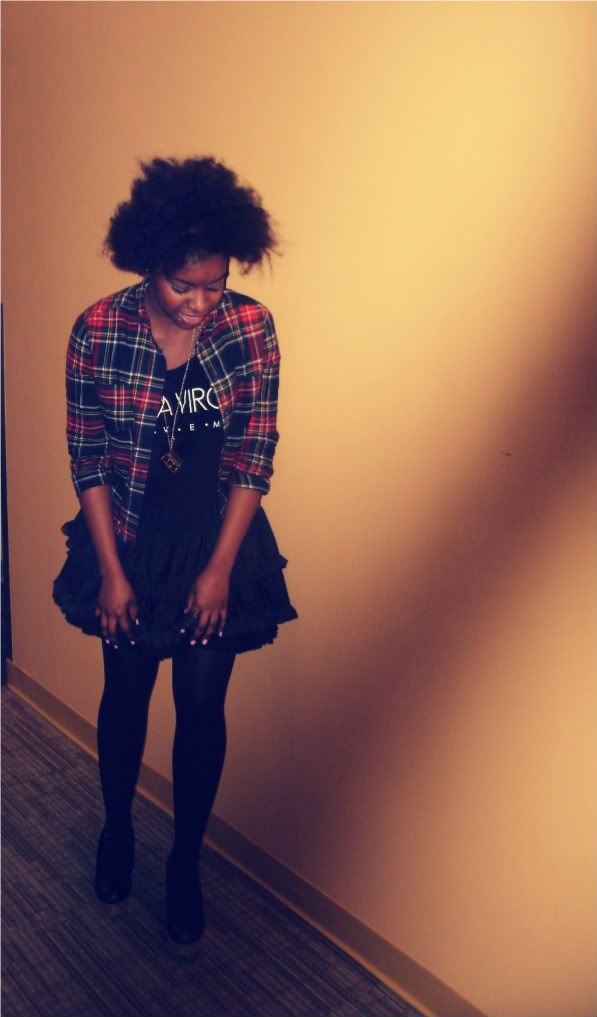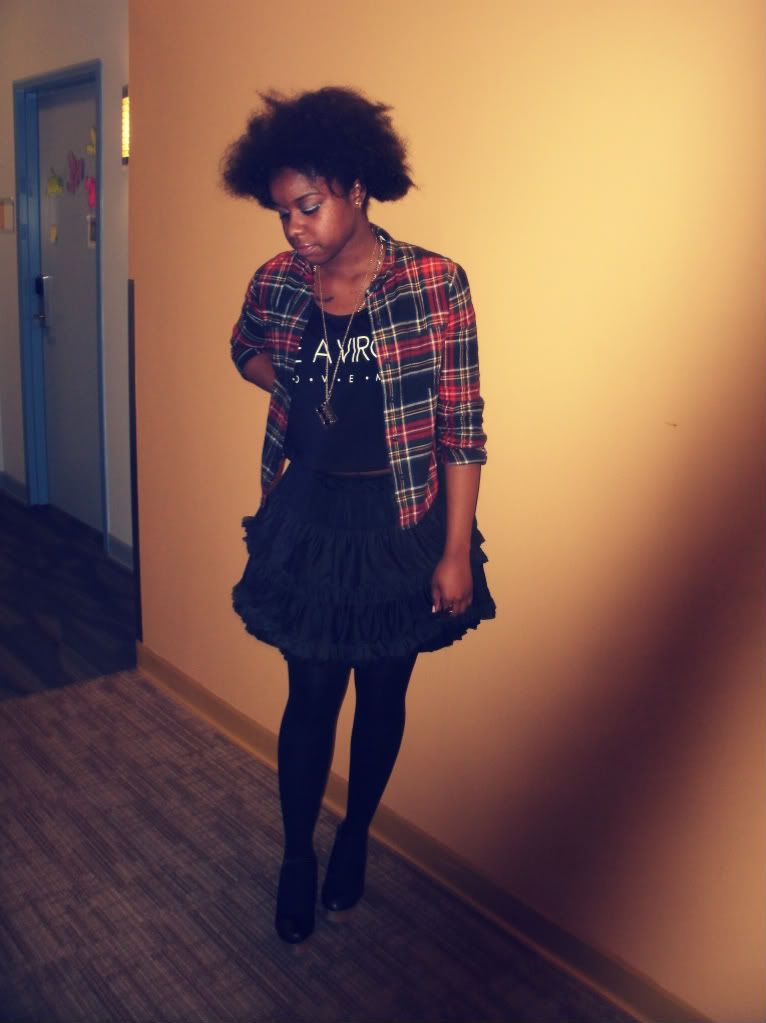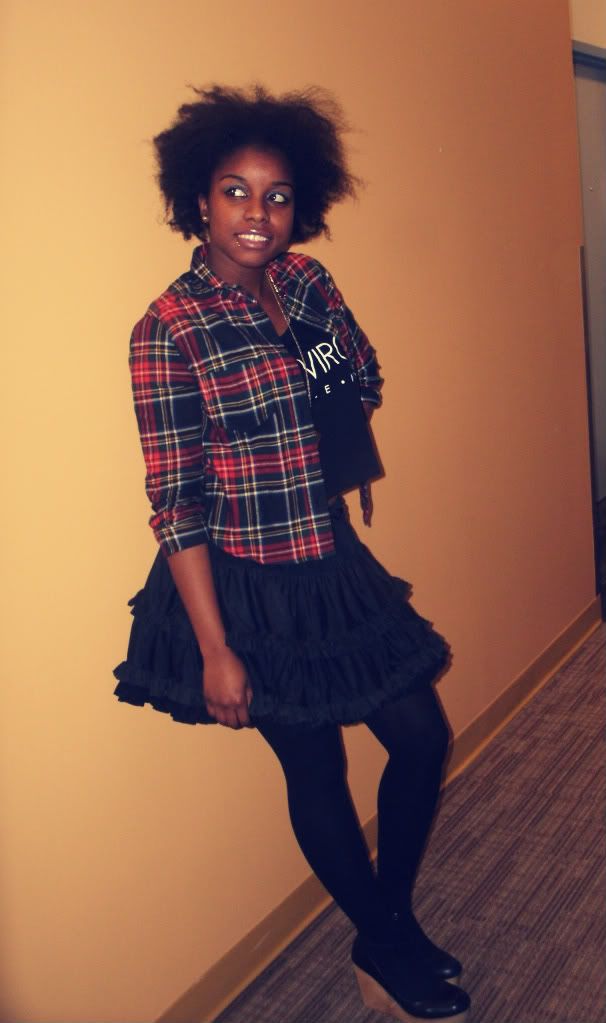 flannel: urban outfitters (BDG)
tank top: forever 21 (says "like a virgin. love me.")
tutu skirt: american apparel
shoes: urban outfitters (deena and ozzy)
boombox necklace: forever 21
other necklace: stolen from my bro
there's a reason why i titled this post "strange and beautiful."
it's an aqualung song, and one i'm thinking of getting tattooed on me. not quite sure where yet, but i think it has to be done. lately, i've been going through some things. i'm starting to think i have immense personal problems that i want other people to solve, and they can't. i have to save myself from myself instead of some handsome boy. it's like that cheetah girls song called "cinderella." you guys know. the part when they sing "my night in shining armor is me/so i'm gonna set me free." obscure disney reference. don't judge. i've been feeling extremely lonely these days, and i actually cut off communication with the outside world for a whole day, only for my parents to completely overreact and march up to my school. (they actually sent a lady to do a wellness test on me. while i will admit it was my own dumbass fault for not calling them immediately, i still think they overreacted over one day of no contact. my dad actually threatened to call the police and search for me.)
but i digress, this terrible place has made me do some real hard thinking. i always overreact to stupid shit, i get attached to people--mainly boys--waaaaay too easily, and i always feel like absolutely no one likes me and i drive people away. add this to the fact that i've never ever had a boyfriend which i attribute to a myriad of reasons--mainly because i'm black and like the opposite race--and that it usually takes a guy i'm interested in about 2 weeks to ignore me, and voila: you have a recipe for complete disaster.
i'm talking to my school counselor to set up therapy sessions (students get 10 free ones) so i can sort this mess out. i just can't keep doing this. i have to be stronger than this. while i do think i've been pretty good on my own thus far, it's getting a bit frustrating to see all my friends with love interests or with boyfriends while you're losing each option you get as quickly as it came. it makes you wonder if you're even worthy of what you know you deserve.
going back to the "strange and beautiful" thing, i thought it was such an appropriate song and title. we're all strange and beautiful. there are weird things about all of us that some may find completely disgusting, but others would find breathtakingly amazing. sometimes i feel like i'm too weird/unique/silly/whatever to get anyone. i'm too complicated. that my quirks and everything that makes me "special" are what's actually keeping me from a mate. but i feel like you have to be true to yourself. if you like to spontaneously do the bernie dance--limp limbs like the titular character from the movie weekend at bernie's--then why should you be ostracized for it? its who you are. i'm strange and beautiful. and so are you guys.